Sunrooms – or, as they're also known, solariums – can denote a certain level of status. For example, the sunroom in the White House, built in 1927 by President Calvin Coolidge and his wife Grace, has famously served as a place for generations of first families to relax, play cards, host friends, and watch football.

But, of course, you don't have to be a president to revel in the comfort of a sunroom. Many people are adding them to their home for numerous reasons: a relaxing hangout for the family, secondary dining room, or even a home office.
Image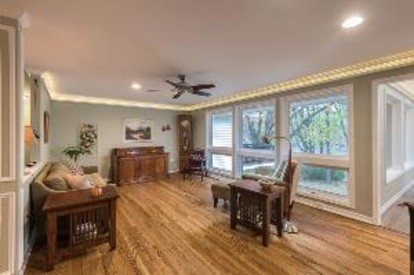 Ken and Kathy Bogdan recently added a sunroom to their home in Camp Hill, Pa. In addition to desiring a little extra space for their retirement years, the Bogdans also wanted a sunroom so they could look out on a beautiful backyard. In order to get the optimal views, the Bogdans chose MI windows for 
the addition.

"We are very happy we chose MI products," Ken says. "We installed 14 windows during our initial remodel three years ago, and they perform very well and look great."

Robert Wright, the designer and contractor on Bogdan's first remodel, also got the call to build the sunroom.

"When we first discussed the project, I read the reviews on MI and it looked like they had very good products," Wright says. "I encouraged Ken to pull the trigger."

For a job that involved one room, the Bogdan solarium nevertheless boasts an array of vinyl windows. There are six 1685 double sliders from MI. One of MI's top replacement windows, the 1685 features a triple-pane option – which the Bogdans ordered – with argon gas, making it ideal for any climate, but especially beneficial for the cold Pennsylvania winters.

But as important as energy efficiency is for a sunroom in Pennsylvania, the Bogdans also like the 1685 for its two moveable sash, large viewing areas, and adjustable roller system for easy operation.
 
"We love the double sliders," Ken says. "They give us so much visibility and flexibility. We love that we can slide either side of the window. Hung windows would have blocked our vision at the same height all around the room, while the sliders have a narrow area of blockage. We also purchased the flexible FlexScreens that look and perform great. We really like that the screens give us better visibility."

The Bogdans' sunroom addition also has MI's 1650 picture window and a pair of 1615 sliding-glass doors. A top-of-the-line patio door, MI's 1615 is available with multiple configurations, including a blinds-between-the-glass option, which Ken wanted.
Image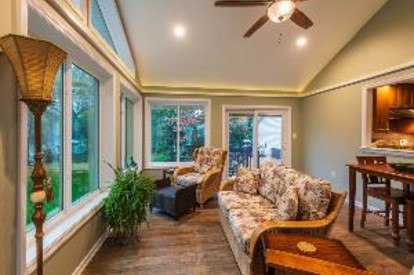 "I use the self-contained blinds every day," he says. "The blinds are a great value when compared to the hassle of installing and cleaning regular blinds." 
Perhaps the most intriguing pieces in the remodel are a pair of polygon-shaped windows. MI is able to fabricate unique shapes for innovative designs, and Ken wanted these windows for his "cathedral wall."

"Those windows were an idea of his to bring in more light, to give that whole wall a feeling of openness," Wright says. "They have a wonderful view out to the backyard; they wanted to maximize that experience to see as much opening as they could."

Although the Bogdan homestead is located just minutes from the state capital of Harrisburg, it's in a secluded area that offers a beautiful view of the woods and waterways that are a staple of the southcentral Pennsylvania landscape. The Bogdans decided to build their solarium to get a better view of the natural world that's just outside their doorstep.

"Kathy and I are very fortunate to have Conodoguinet Creek in our backyard," Ken says. "We frequently see eagles, egrets, heron, and ducks. The creek also draws in deer, fox, and mink. The sunroom is a nice quiet space to read or just enjoy the day. It's bug free and stays cool in the summer and toasty in the winter."