In this post, we're taking a deep dive into the worlds of architecture and design and how it relates to windows. We're going to give you the information you need to make an informed decision about what style works for you, and what fenestration products work best with that style.
Image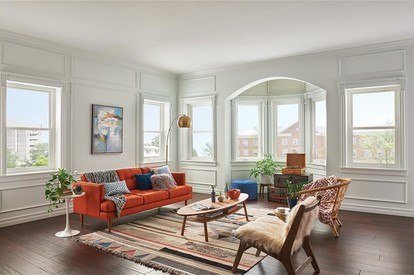 Midcentury Modern Style
Midcentury modern is perhaps the most common phrase you'll hear when discussing different design styles, butits a bit of a misnomer. That's because it's at least as popular today as it was when it was created in the 1950s and '60s. Nevertheless, the term has held firm long into the 21st century, and it can refer to art, architecture, design, furniture, and more.

When it comes to home décor, midcentury modern refers to all kinds of charming accessories, like built-in book shelves, standing hinged screens, and "starburst clocks" (i.e., clocks that resemble a star). If you really want the full midcentury look, you could also decorate your space with pop art, such as an Andy Warhol wall hanging or a print by Jasper Johns.  

But let's say you want to go beyond decorating and are considering a home featuring midcentury modern architecture. If that's the case, then you should look for homes with open floor plans, large numbers of windows, and a setting that integrates easily with nature. A perfect example is Frank Lloyd Wright's Fallingwater (1935), the Pennsylvania summer home that boasts an immense, open living room in a house that's suspended above a waterfall.

The use of windows is especially important in midcentury modern architecture, as it helps to "bring the outside in," dousing a home in natural light and dampening the divide between exterior and interior space. Glass walls are quite common in midcentury modern houses; in fact, the Glass House (1949) by Philip Johnson and the Farnsworth House (1951) by Mies van der Rohe are two legendary examples of the glass wall aesthetic in midcentury modern architecture.

Of course, few people desire an entire domicile made of glass. But huge sliding glass doors, sometimes called window walls or moving glass walls, have become increasingly popular. Recent examples are MI's own 120 and 1618 sliding-glass doors, which can extend at least 18 feet wide. And, the best news is that with today's technology – like Low-E glass, argon enhancement, and warm edge spacers –a glass door this large can still be energy efficient.
Image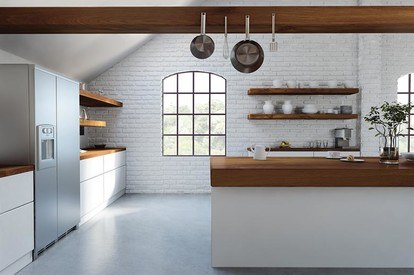 Industrial Style
Television shows about entertainers, artists, and comedians epitomize this style that includes exposed brick, lots of steel surfaces and even support beams that would be covered up in most homes. Yep, that's industrial.

Naturally, shows about entertainers and artists highlight this décor because it first became popular among artists in urban areas. Artists have repurposed former industrial buildings for years now, and they first seized upon the idea of leaning into the buildings' original look.

Industrial design really shine in former buildings that were former factories or warehouses. These spaces feature open floor plans, concrete floors, a large island in the kitchen, and plenty of metal and wood elements. Industrial accessories include steel tools, cast iron decorations, and wooden bureaus and coffee tables. 

Neutral colors are also preferred in the industrial style, and that should extend to your windows. Colors like black, bronze, silver, or white are ideal in keeping with the industrial design. What's more, your windows should preferably be free of any grids. This will give them the no-nonsense look that embodies industrial style.

At MI Windows, we offer numerous products that complement the industrial look. For example, our 1675 and 9770 casement windows are available in all the colors mentioned above. Plus, they feature a hinged operation that eliminates meeting rails, allowing for maximum glass and viewing area – a standard feature in industrial design.
Image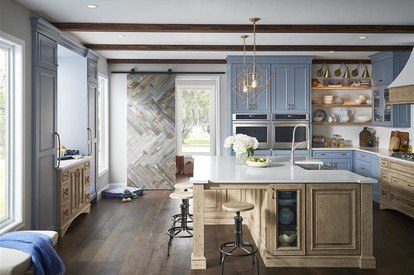 Farmhouse Style
Although fewer than two percent of Americans live on a farm (a statistic from 2019), farmhouse décor continues to earn acclaim.

If you're considering a farmhouse design for your home, then you have to remember to think practically. A core tenet of farmhouse style is repurposing. Thus, a butter churn becomes an umbrella stand, glass milk bottles hold cooking spices, an antique tractor seat becomes a serving tray, etc. And if you're simply decorating, most kinds of American antiques fit in nicely with farmhouse style. You can hang a cutting board on the wall or place an old sugar bowl on top of a shelf to get that desired effect.

Yes, visitors will certainly get that farmhouse feel with those kinds of items in your home. But, you want to present that farmhouse spirit on the outside as well. For your window choices, a standard single-hung or double-hung window will do the trick. At MI, we recommend our top-selling 1650 double-hung window for homes decorated in the farmhouse manner. aesthetic, especially with the black-exterior option.

And if you're thinking of grids, consider the Colonial pattern, since that most resembles the traditional farmhouse look. Before it was possible to mass produce windows and transport them without damage, manufacturers would make square panes of glass. Installers would then connect all the panes together in wooden mullions, which is why we associate that checkerboard grid pattern with the term "Colonial."

Today's "Modern Farmhouse" movement incorporates light-colored siding with dark-colored windows, often black. MI's 1650 is available with a black exterior coating – the number one selling exterior paint option in its product lineup.
Image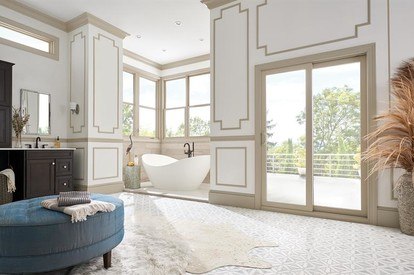 Mediterranean Style
This particular style may have originated in southern Europe, but it's become quite common in the southern and southwestern United States. Mediterranean homes first became popular in America during the 1920s, when magazines and newsreels displayed the homes of Hollywood stars. For example, there's "Greenacres" (1928), a legendary Beverly Hills home built in the Mediterranean style for silent film actor Harold Lloyd; it's been on the National Register of Historic Places since 1984.

With its warm temperatures year-round, Southern California is ideal for Mediterranean homes, since they were originally constructed for similar climates around the Mediterranean Sea. These homes are often one story and usually marked by stucco on the exterior, red clay tile on the roof, and arched doorways. This design is also sometimes referred to as Italian Renaissance or Spanish Modern, which is why the terms are sometimes used interchangeably. 

Regardless of what you call it, Mediterranean style begs for a southern Europe motif, which means the homes are typically adorned with Greek pottery and wooden wall hangings. Additionally, it's routine to place colorful, decorated mosaics on the floors – normally in soft colors like powder blue, mint green, or terra cotta. 

The houses themselves often have high ceilings and exposed wooden beams. It's also standard for the home to be designed so that you get a cross breeze from one end to the other. As such, you want windows and sliding glass doors that are going to accentuate this feature, like MI's 5800 single-slider window. With sliders, you get a wide viewing area to the outside that complements the single-story construction, and the slider can be opened to bring in those cross breezes and cool the home.