Replacement windows are a great way to refurbish your space. It's a visual improvement that effects both the interior and exterior of your home. Plus, there are benefits that go beyond beauty and curb appeal. New windows can also help your home feel more comfortable and even quieter.
It's the latest technology that helps today's windows offer so much more than those of the past. From frame material options to glass choices, the benefits of installing new windows may surprise you. It's more than a great way to add to the aesthetics and functionality of your home.
If we've piqued your interest about replacing your windows, we hope you read on. Because there are so many variations and varieties of windows and window styles, we've put together this replacement windows guide to help you. There's a lot to learn, and that's where we come in. After reviewing this information, you should have all the details you need to shop for replacement windows that suit your needs and fit your style.

Ready to get started?
Image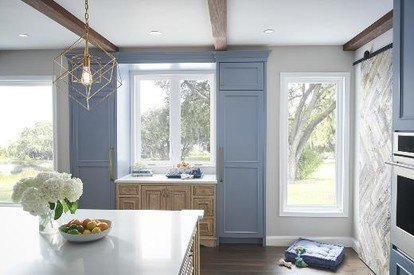 Why Replace My Windows?
One of the most obvious reason to replace your windows is that your current windows have fallen into disrepair or are drafty. Old windows can play havoc with your energy bills, especially if they're more than 20 years old. The windows on the market today are so much more energy efficient than their predecessors. By replacing them, you may immediately see a difference in your energy bills.
Plus, if your windows are in a state of disrepair, they might not be safe. Not only should you expect your windows to be sturdy enough to withstand strong weather you also want to feel secure. New windows offer locks, vent stops and even window operating control devices (WOCD's) that can help keep your family safe and your mind at ease.
Finally, you might want to replace your windows for purely aesthetic reasons. Window frames are available in a wide variety of colors – both on the exterior and interior – and offer a plethora of aesthetic choices, like grids and decorative glass. Regardless of what type of architectural style or interior design you have, you'll find a window on today's market that will complement your home.
Image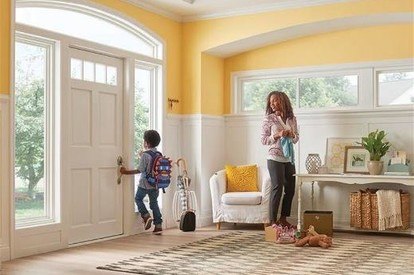 Types of Replacement Windows
One of the most important elements is deciding the material type for your windows. You might think that this will be one of your easier decisions, but the fact is that there are many window materials on today's market, and each one has something to offer. Read on for all the details and choices you have available.
Vinyl
Far and away the most common window material in America today, vinyl only entered the market in the 1960s. But, today, just about every manufacturer makes vinyl windows. By some estimates, more than 80 percent of all windows sold today are vinyl.
Vinyl windows are designed to last for years. And due to relatively recent innovations that allow vinyl to reflect the sun's rays, vinyl windows are now available in many colors – even dark tones like black and bronze. Moreover, thanks to warm-edge spacer systems, Low-E glass, and gas between the panes, vinyl windows are as energy efficient as any other material.
Image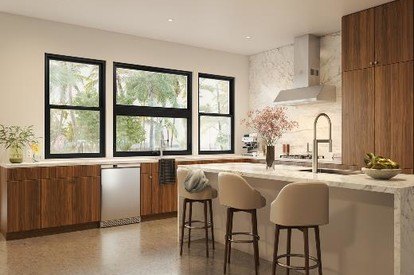 Wood
Though not as popular as they once were, wood windows are still widely available. They're known for being sturdy, long-lasting, and easy to re-paint. But many people like wood for the simple fact that it looks traditional. That's not surprising, since wood was such a common window material for generations.
Wood's classic look is such that it complements any kind of architectural style, too. For that reason, you'll see wood in homes that have been designed in the farmhouse and classic styles, naturally, but also ones that have an industrial or modern look. In fact, wood is so popular in windows that many manufacturers offer a wood clad that goes over other materials.
Fiberglass
A relative newcomer to the fenestration market, fiberglass is quickly picking up ground on its competitors. Made of glass fibers and resin, fiberglass has become popular among architects, builders, and homeowners because it expands and contracts at roughly the same amount as the glass that it holds. For this reason, fiberglass is an ideal window component if your home is in a region that experiences extreme temperatures.
Fiberglass is also favored because it's a very strong material. It's able to hold large expanses of glass, meaning it's a good choice if you're placing particularly large windows in your home. This is another reason why fiberglass is gaining traction on the market: Larger windows and sliding-glass doors are very popular right now.
Aluminum
Aluminum is another material that became popular in the years after World War II. Although it first started to appear in buildings and homes in the 1930s, aluminum didn't really become a prized material until the postwar boom period that saw the creation of the modern American suburb.
There's no secret as to why aluminum became suddenly prevalent: It was affordable, long-lasting, and – as a naturally occurring material – abundantly available. What's more, aluminum allows for narrow frames, so there's more space for the glass.
How to Choose a Window Style
Today's windows come in a variety of shapes and operating styles. The kind you want may change based on the room, or floor of the house. And that's OK, because manufacturers can produce windows for all tastes and desires. To get you started, we've prepared a list of the different types of windows that are commonly available.
Image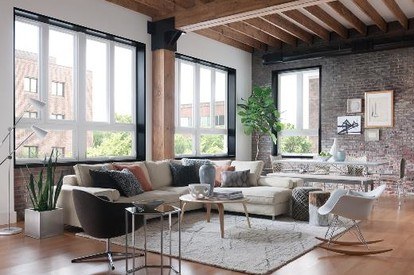 Awning windows
Awning windows include a single pane that opens outwardly and is attached by a hinge at the top. They are designed for rooms that need extra ventilation, such as bathrooms or basements. One extra benefit of awning windows is that their design allows them to remain open during a light rain.
Image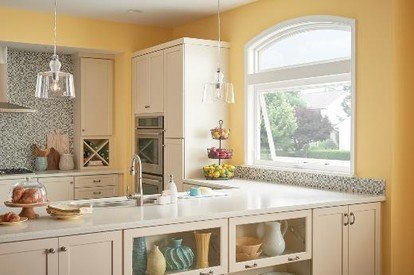 Bay and bow windows
Bay and bow windows can be a striking architectural addition to any home, while also creating extra interior space. Bay windows feature three individual windows that curve out to form an arc, and they often include two operable windows flanking a fixed picture window. Bow windows are made up of four or more individual windows that are often the same style as each other.
Image
Casement windows
Casement windows are attached to the frame on the side and can be opened outward using a hand crank or by pushing. They can be a single window or a pair in a single frame, and they are another excellent option for rooms that need extra ventilation.
Image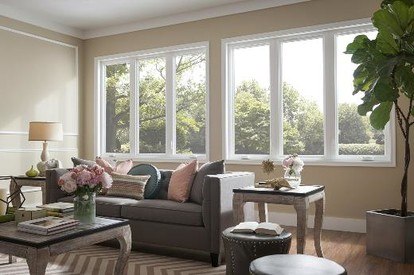 Double-hung windows
The most popular option is the classic double-hung window, which includes two operable sashes that slide up or down within the frame. Adaptable to almost any home style, double-hung windows are aesthetically pleasing and easy to operate and maintain.
Image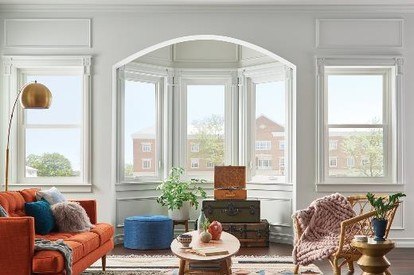 Garden windows
A garden window is basically a mini greenhouse, with four panes of glass forming a box that protrudes from the side of your home. They are most commonly installed above countertops and kitchen sinks, creating the perfect spot to grow herbs for cooking.
Basement windows
Basement windows are similar to awning windows except for one major difference — they open at the bottom instead of the top. They still provide excellent ventilation, but can't stay open during inclement weather.
Image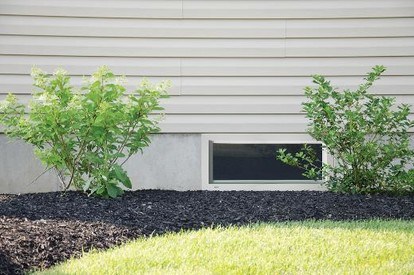 Picture windows
Picture windows are fixed and feature a large pane of glass that is usually devoid of window grids, allowing for expansive views of the surroundings.
Image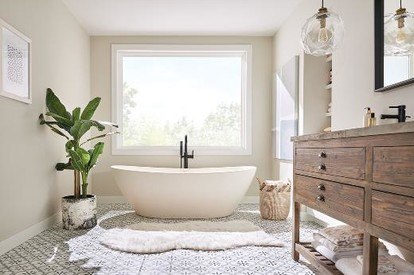 Single-hung windows
Single-hung windows offer the same classic look as double-hung windows but only have one operable sash, as the upper sash is fixed in place.
Image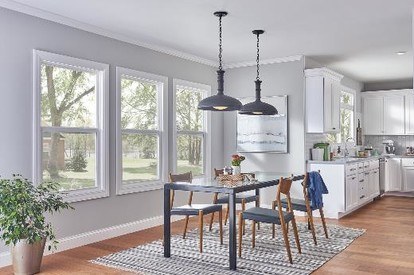 Sliding windows
Sliding windows are easy to operate and can be almost any size, and they provide an especially weather-tight seal that helps with energy efficiency.
Image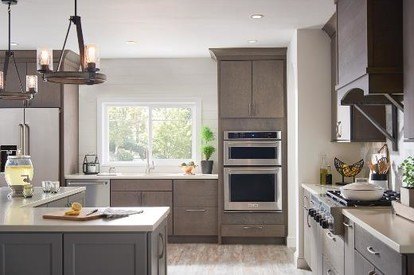 Specialty shape windows
If you prefer a more distinctive look for your home, you can choose to have custom windows made in almost any geometric shape.
Image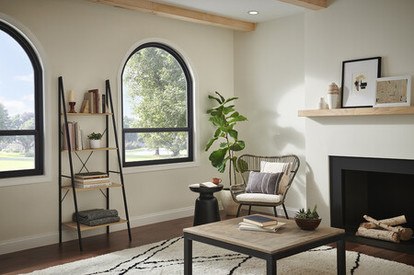 Window Details and Decorative Elements
You have many options when it comes to decorating your windows, from grids to blinds to decorative glass. In the following section, we'll give you a brief rundown of what these different decorative touches available.
Grids
If putting a distinctive touch on your windows is important to you, then grids might be the way to go. Grids come in all kinds of different patterns, so you'll want grids that match the style and design of your home. For example, "prairie" grids are ideal for Midcentury Modern homes, while a diamond grid works best for a Victorian or Tudor house. Then are also numerous grids that complement any style, like Colonial grids or drop grids.
But if you want the aesthetics of grids mixed with modern technology, you might consider grids between the glass. These grids are placed between the panes of glass during the manufacturing process. The advantage of these grids is that you don't have to worry about cleaning them.
Image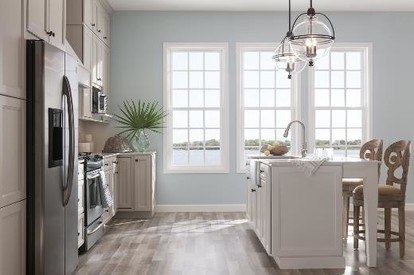 Blinds
There are also blinds between the glass, which is wonderful solution to avoid the chore of blind cleaning. Plus, there's no dangling cords which can help allay safety concerns.
Obscure glass
Whether your goal is privacy, light diffusion, or an aesthetic touch, obscure glass is a great option. Obscure glass is produced by pressing a pattern into the glass during fabrication. It's often used in bathrooms or other spaces where privacy is prioritized. Similarly, rain glass is a type of obscure glass. It too is used for privacy or to diffuse light; what makes rain glass distinctive is that the pattern resembles that of rain drops sliding down the glass.
Image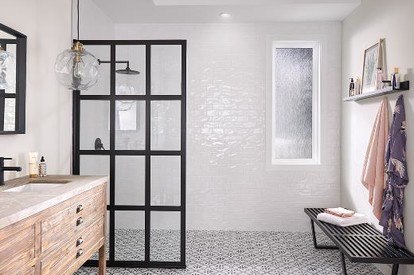 Frames, sashes, colors
As we've noted in the sections above, you have a bevy of aesthetic options these days when selecting windows. In addition to what we've covered, many manufacturers also offer custom frame and sash colors and finishes. The large array of colors available is especially notable in today's market. Due to the latest innovations – particularly among vinyl windows – consumers can choose colors that were unimaginable only a few years ago. 
Energy Efficient Windows
When choosing a replacement window, few factors are more important than energy efficiency. Consumers want energy efficient – or "green" – materials in their home, not only because it's good for the environment, but because it keeps energy bills low. To meet this demand, manufacturers have developed a number of measures to increase the energy efficiency of windows.
Glass
Coatings on the glass can reflect the sun's rays, thus keeping your interior space from getting too warm. The most common type of coating is called Low-E, which partially blocks the amount of ultraviolet and infrared light from penetrating your space. This, in turn, helps keep sunlight from affecting the interior temperature of your home while also protecting materials in your home from fading due to sunlight.
Insulated glass units
Insulated glass units, often called IGU's, are used in dual- and triple-pane windows. These IGU's usually have warm-edge spacer systems, which feature a moisture barrier that boosts the product's energy efficiency while reducing the potential for fogging. And most manufacturers also offer either argon or krypton – though sometimes xenon – between the panes to further aid the IGU's energy efficiency.
Impact-Resistant Glass
As the number of severe storms seemingly rises every year, the need for extra protection is more important than ever. That's why window manufacturers offer impact-resistant glass that can help protect a home during extreme weather events.
Designed like the glass used in the windshield of a car, impact-resistant glass is made to splinter when it breaks. That way, there's a much lower chance that shards of glass – or dirt, debris, or other objects – could be propelled into the home during a destructive storm. Impact-resistant glass is an especially good idea for people living in coastal areas or regions that experience frequent tornadoes.
Image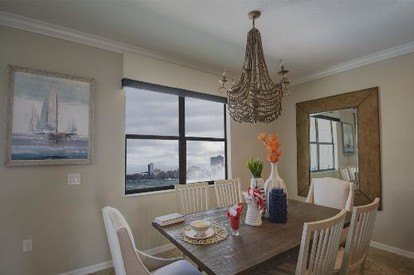 New Windows for a Quieter Home
One factor in shopping for windows that's often overlooked is sound transmission. But this item is important, especially if you live in an urban area where there's a lot of outside noise. To measure how well a window reduces sound, manufacturers use two acoustical rating systems: Outdoor-Indoor Transmission Class (OITC) and Sound Transmission Class (STC).
The OITC measures frequencies from the outside. For testing on windows, the sound transmission loss is recorded on either side of a window; the OITC rating is the difference between the two results. For example, if the exterior decibel level is 60 and the interior decibel level is 40, your OITC is 20.
Conversely, the STC measures interior noises, like dishwashers or televisions. As a result, it's not as useful as OITC in measuring a window's sound-resistant capability. However, because OITC is relatively new, many window manufacturers and distributors will still hype their products' STC numbers. When talking to a window salesperson, be sure to ask them to provide both OITC and STC figures, if possible.
What to Look for When Shopping for a Window Company
It's important to find a reputable company when shopping for replacement windows. You should first check to see how long the company has been in business. If it's been around for many years, then you may assume that the company has the skills and experience to manufacture quality products and provide supportive customer service. Trade magazines, like Window & Door Magazine, or Door and Window Market Magazine, will also have a list of manufacturers that you can trust.
The Window Installation Process
Let's say you've selected the windows, manufacturer, and distributor that you want. Now what? Well, the good news is that you've gotten the hardest parts out of the way. At this point, it's time to prepare your home for the installation process. Like any home renovation, window installation will cause you to make some adjustments around the house. For example, you should cover your furniture, clear the area around your windows to make installation easier, and ensure that your pets won't be underfoot.
Image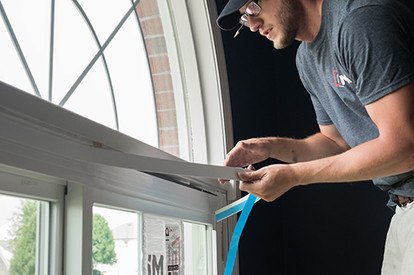 Window installation is a job for professionals. We strongly counsel against homeowners installing their own windows. Instead, once you've selected the windows you want for your home, we recommend you begin contacting contractors/installers in your area. No matter where you live, you should find plenty of qualified professionals near you.
Once the windows are delivered to your property, you may need to store them for a short time before installation can begin. In that scenario, ensure that the windows are stored in a shaded area on a flat base; never lean a window against a corner. If you have vinyl windows, protect the vinyl sill from traffic and damage, and provide full support under the door sill. And, if a circumstance arises in which you must move a window before the installers arrive, do not lift by the frame only.
Window Replacement: Cost vs. Value
Whenever you begin a project around the house, you have to answer two questions: "What am I trying to improve," and "Is the cost worth it?" The answers can be complicated depending on the renovation in question. However, when it comes to replacement windows, the answers to both questions are generally pretty simple.
As to the first question, the answer is obvious: You want better windows. That means better energy efficiency, better aesthetics, better views to the outside. People expect a lot from their windows – and rightfully so. Considering how much value they bring to your home, you should replace them if your current ones aren't getting the job done.
This brings us to the second question. Is it worth it? Here again, the answer should be clear. Getting replacement windows is nearly always worth the cost. In the first place, the energy efficiency of today's windows is far beyond what was available even a decade ago. As a result, you'll start saving money on your energy bills almost right away. Secondly, new windows will give your home a certain aesthetic, especially if they feature colors, grids, or some other decorative feature that really pops. In other words, the curb appeal of new windows will add value to your home when it comes time to sell.
Ready to get started?
Find an MI Windows and Doors dealer near you today.