Image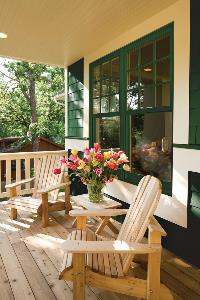 When building or renovating their home, homeowners choose everything from light fixtures and hardware, to cabinets and the colors on their walls. All these decisions make the home uniquely theirs. Thanks to new technology, homeowners can now also choose the exterior color of their windows, adding another dimension of customization to their home. Josh Williard, product manager at MI Windows and Doors, knows the task homeowners face when they are building or remodeling. "Windows give homeowners another opportunity to add personality to their homes," stated Williard. "New technologies are available that allow windows to be transformed with colors that range from dark browns and black to silver and green."
Homeowners can achieve their desired color through three distinct processes: co-extrusion, lamination, and coating.
 
Co-extrusion is typically the most expensive process among the three options; however, the color is approximately 450 percent thicker than the average paint layer. During the extrusion process, two colors are extruded simultaneously and layered together, creating a color "cap" on the exterior of the product. This thicker color layer diminishes or eliminates the need for touch-ups.
 
Lamination provides improvements in aesthetics and offers reflective technology for top performance in high-temperature areas. Laminates are available for both interior and exterior applications and can offer homeowners a satisfying solution when looking for a more traditional bronze aluminum exterior or wood-grain interior look. After the profiles are extruded, they are coated with a high-stick adhesive and the three-layered laminate color is applied by a series of precision rollers and blades. The laminate's three layers consist of a white, infrared reflective base layer; a pigmented, infrared transparent center layer; and a durable top color layer. Each laminated profile is tested to ensure an adequate seal of the foil before they are used to fabricate a window. "Laminated products have a performed excellently over the past 10 years," said Williard.
 
The latest advancement to the world of colored windows comes in the form of coatings.  This state-of-the-art technology combines heat reflective coatings with adhesion-promoting additives and oven-baked application to ensure the paint will maintain color and flexibility while preventing peeling, blistering, and flaking. Vinyl windows are painted after assembly, which allows the manufacturer to offer a variety of colors without having to inventory additional materials.           
 
MI Windows and Doors recently announced the introduction of a painted exterior program for its 1600 Series replacement windows available throughout the eastern half of the country. Customers can now choose from eight environmentally friendly color options to enhance their home's curb appeal.
 
"Today's homeowners are incredibly style conscious and windows are increasingly becoming an area where they want to display their individualism," stated Williard. "We're excited to introduce these new color options so homeowners have the opportunity to express their unique sense of style through the use of our products."
 
As homeowners continue to seek ways for their home to stand out, the consumer demand for color will continue to rise. According to Williard, the number of color-coated windows manufactured is expected to grow exponentially over the next few years. It is estimated that 16 percent of all vinyl windows manufactured by 2019 will be painted. "The window industry is going to continue to come up with new and even more innovative ideas to provide for the demand," concluded Williard. "Our color coated program is exciting, and we look forward to seeing how homeowners and builders use our products to enhance their home designs."