Shutters can make the perfect window accessory
If you've recently placed new windows in your home, or if you're planning on doing so, let us just say, "Congratulations." Getting new windows is a sure-fire way to improve the curb appeal of your house and reinvigorate your abode with that "brand-new" feeling. Not only that, but you've augmented the energy efficiency of your home and increased its re-sale value.
Nevertheless, as long as we're on the subject of enhancing the exterior look of your home, now's probably a good time to point out that your renovation job may not be completely done just yet. Because, if you really want to add to your home's aesthetics, you should consider getting exterior shutters to go with your windows.
Don't get us wrong: Your windows look great. Your neighbors are no doubt jealous and are thinking of asking you for the contractor's name. But placing shutters by them is the final dollop of excellence.
Shutters provide a certain elegance to any home, and besides, picking out those stylish windows was sort of fun, right? Keep the momentum going and choose the shutters that will make the windows in your home look even more exquisite.
---
Raised Panel
Image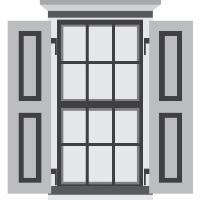 One of the most common types of shutters, raised panels feature two rectangles of raised material – a top and a bottom – on each shutter. This design is simple, charming, and never goes out of style. And, like the other kinds of shutters on this list, they can be made of a variety of materials, including wood, vinyl, and fiberglass.
---
Plantation
Image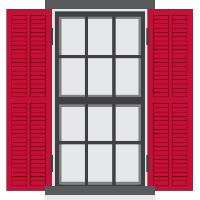 These shutters became popular again in the 1980s and have been with us ever since. First used in the South in the 18th century, they're now available everywhere. Plantation shutters boast a series of overlapping, horizontal slats with one vertical bar or divider down the middle. Although they were originally designed to be opened and closed, many exterior plantation shutters today are fixed and used solely for decoration.
---
Lovely Louvered
Image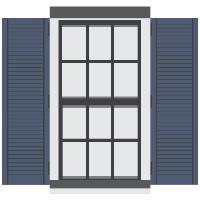 Similar to the plantation style, louvered shutters possess overlapping slats. There are two key differences, however: Lovely louvered shutters have narrower slats, or louvers, and there's no vertical divider that goes down the center. Lovely louvered are one of the most popular types of shutters, in part because they're compatible with just about any kind of home.
---
Board and Batten
Image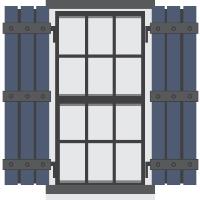 Sporting a series of wide, vertical boards—most varieties offer three or four on each shutter— board and batten shutters look like pieces of a picket fence. They also feature two or three horizontal or diagonal boards (battens) that are placed over the vertical ones. Evoking images of classic Americana, board and batten shutters are particularly popular
with fans of the Modern Farmhouse look. What's more, there's a large variety of design options with this kind of shutter, as board-and-battens sometimes have differently shaped angles and edges on top, and the accompanying horizontal/diagonal battens can be set in any number of places.
---
Mission
Image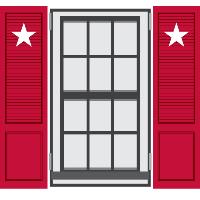 One of the most distinctive varieties of shutters, missions come in a multitude of schemes. With mission shutters, a geometric shape is carved or fabricated into some part of the shutter, giving homeowners and designers endless possibilities for patterns. Although these types of shutters are typically made of wood, they're also available in other materials.
---
Combination
Image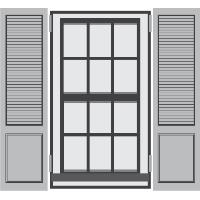 Finally, if you really want to add a signature look to your shutters, you can always try the combination route. Simply take two or three of the styles you like best and incorporate them into a single shutter. For example, you could install a shutter that has a raised panel on the bottom, lovely louvers in the middle, and a mission pattern on top. You might end up paying a little more for these shutters, of course, but if you're looking to put your personal stamp on your shutter design, this is the way to go.