In modern society, we shop, stream movies, and compete in online games with competitors from around the world — all from the comforts of our home. But people haven't totally given up on the idea of interacting with others.

A couple in Herndon, Va., is very much determined to keep the tradition of dinner parties alive and well. When they recently remodeled their kitchen, it was with an eye toward opening up the space for social get togethers and meals. The couple hired Sun Design, Inc., of Northern Virginia, for the job, and designer Jon Benson quickly hit upon the idea of bringing more windows into the room. Benson chose MI Windows and Doors for a succession of three windows — each with two operational panels — along the back wall. From end-to-end, they take up almost 13 feet of space.
Image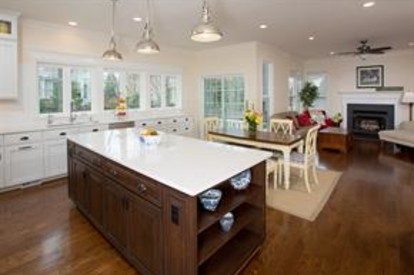 "They wanted to open up and get the maximum view they could," says Benson, a Rhode Island School of Design graduate who's written numerous books on woodworking. "They liked that open look."

MI Windows' 9770 casement windows were selected for the Herndon re-design. These vinyl casement windows offer superior style and traditional craftsmanship with features like beveled exterior edges and multi-point locking hardware. The design offers a large viewing area with clean, continuous lines for unobstructed views.

Ideal for all four climate zones in the U.S., these casement windows are also ENERGY STAR-qualified and feature double-pane insulating glass and a multi-chambered mainframe. The warm-edge spacer system and triple-point weatherstripping maximize energy efficiency to keep the home comfortable all year round. 

"We use MI a lot," says Benson, who was chosen for the job after the homeowners interviewed nearly 
two-dozen people.

"They're kind of our go-to for a lot of projects, especially if we're looking for a color match on a redesign."

In addition to the casement windows, Benson's design called for MI's 910 two-panel sliding-glass door, which opens up to a deck with views of a spacious backyard. Designed with features like insulated glass and a warm-edge spacer system, the 910 also utilizes a unique roller system and aluminum track that results in smooth and easy operation. Also available in a three-panel configuration, the 910 sliding-glass door combines convenience, function, and style.

"With MI, we were looking for the right value, and something we could stand behind," Benson says. "They look great. The homeowners are happy with them, and so are we."

The redesign was finished in November, giving the couple a chance to host Thanksgiving. It was their first opportunity to have a group over for dinner.
Image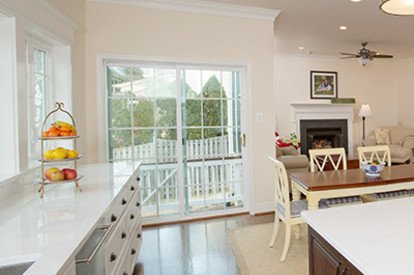 "That was a big driver of doing the project," Benson says. "They entertain 12 people or so at a time. They wanted a space where they could all gather and not be in one another's way. That was a big thing for the homeowners."

Benson expanded the space in part by adding eight feet to the back of the house, lifting what had been a sunken area, and taking out a knee wall that separated the kitchen from another room.

"They put a bigger table in there that's expandable," Benson says. "And they can put people in the other room, where they can be together."